TV Fanatic Works Better with Prime Instant Video
Seinfeld Episode Guide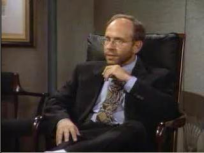 Jerry and George begin taping Jerry and everyone gives advice to their screen alter egos. The pilot doesn't get picked up, and Jerry thinks it's because Elaine dumped Russell.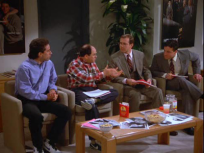 George and Jerry begin casting for the pilot.
George parks his dad's car in a handicap spot, causing a handicap woman to injure herself and an angry mob to destroy the car.
A smelly valet stinks up Jerry's car; George believes he turned Susan into a lesbian.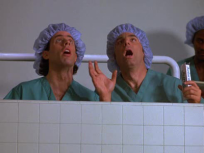 Jerry cannot remember the name of his girl, but knows it rhymes with a female body part; Kramer watches a surgery and drops a Junior Mint into the body.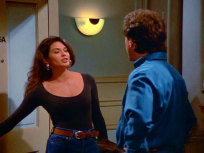 Jerry and Elaine try to figure out if Jerry's new girlfriend, Sidra (Teri Hatcher) has fake boobs.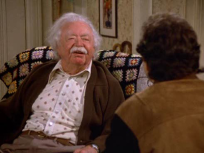 George, Jerry and Elaine volunteer to spend time with senior citizens and all three have a bad time.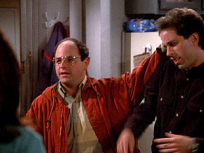 After a college newspaper mistakenly outs George and Jerry as a couple, they spend the episode living a life where everyone but Elaine thinks they're gay.
George and Jerry's television pilot gets canceled after they look at an NBC executive's daughter's cleavage; Elaine tries top stop Jerry's ex-girlfriend to stop talking to everyone about their new shoes.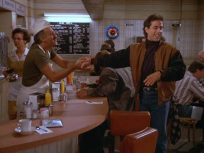 Jerry attempts to keep Babu from being deported; Elaine tries to get George's attorney girlfriend to drop a suit against her.