The Simpsons Episode Guide
When The Simpsons new neighbors, Ruth Powers (Pamela Reed) and her daughter, Laura (Sara Gilbert) move in, Bart crushes on Laura.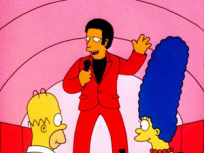 When the house needs expensive repairs, Marge gets a job at the Springfield Nuclear Power Plant and soon becomes the object of affection for Mr. Burns.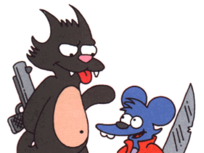 In order to push Bart and ensure his dream of his son becoming a Supreme Court Justice one day, Homer bans Bart from ever seeing the "Itchy & Scratchy" movie.
The third Treehouse of Horror Halloween special tells three stories: Clown Without Pity, King Homer, and Dial "Z" for Zombie.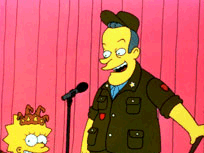 When Lisa's self esteem is shattered by a drawing of her, Homer sacrifices his Duff blimp tickets to enter her into a beauty pageant.
When Homer skips Church one Sunday and realizes the freedom that comes with it, he invents his own religion.
Marge is cast the lead in a local production of A Streetcar Named Desire. Meanwhile, Maggie goes up against her strict daycare attendant.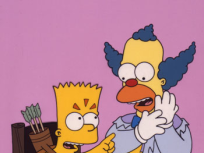 Bart and Lisa go to Kamp Krusty for the summer, but discover the director, Mr. Black, is an evil accountant.
When the Nuclear Power Plant causes Homer to become sterile, he's awarded $2,000 in compensation. Meanwhile, Homer's half-brother, Herb (Danny DeVito), now homeless, returns.
Milhouse falls in love with the new girl, Samantha Stankey, making Bart jealous. Meanwhile, Homer orders subliminal weight loss audio tapes, but is sent one to help him increase his vocabulary.