TV Fanatic Works Better with Prime Instant Video
The Simpsons Episode Guide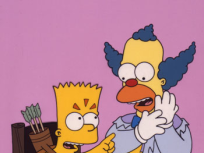 Bart and Lisa go to Kamp Krusty for the summer, but discover the director, Mr. Black, is an evil accountant.
When the Nuclear Power Plant causes Homer to become sterile, he's awarded $2,000 in compensation. Meanwhile, Homer's half-brother, Herb (Danny DeVito), now homeless, returns.
Milhouse falls in love with the new girl, Samantha Stankey, making Bart jealous. Meanwhile, Homer orders subliminal weight loss audio tapes, but is sent one to help him increase his vocabulary.
When Otto crashes the school bus, it's revealed he's never actually had a driver's license, getting him fired. Otto comes to stay with the Simpsons.
Selma reveals she has a new boyfriend from the prison pen pal system... Sideshow Bob! Although Bart suspects he's still evil, Bob proves to everyone else he's changed.
When Homer and Marge fight, Homer heads to a local redneck bar where he meets a beautiful bartender, Lurleen Lumpkin (Beverly D'Angelo), who he begins to manage into a successful singing career.
When Santa's Little Helper falls ill and needs an expensive operation, the whole family makes budget cuts. The family ends up resenting a saved Helper, causing him to run away.
When a school vocational test reveals Bart should be a police officer and Lisa a homemaker, Bart's grades improve and he's named hall monitor while Lisa becomes a troublemaker.
When the Springfield Nuclear Power Plant softball team proves to be pretty decent with Homer as the star player, Homer makes a bet with the Shelbyville Nuclear Power Plant owner.
Mrs. Krabappel sentence Bart to a month of detention and he seeks revenge by responding to a personal ad of hers using phony love letters.